November 30, 2018 | Mickey Shuey, Indianapolis Business Journal.
Apartment rent is on the rise in Indianapolis, thanks in large part to the area's boom in new multifamily developments—and updates to old ones.
The 2018 Indiana Apartment Market report, released Nov. 29 by multifamily brokerage Tikijian Associates, paints a picture of a region that continues to see growth not only in rental rates but also in available units and occupancy.
Overall area occupancy sits at 93.7 percent. Rates have fallen off somewhat in the northern submarket and downtown because of multiple new developments in those areas.
But rent is on a steady upward trajectory throughout the metro area, increasing to a monthly average of $858. The average cost per square foot is about 95 cents.
George Tikijian, senior managing director of Indianapolis-based Tikijian Associates, said the rent increase and high occupancy rates are indications of a healthy economy and a result of a trend of property owners spending more on updates.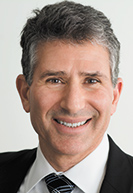 Tikijian
Those updates and a slew of new projects have also put pressure on existing structures that peg themselves as high-end, he said.
"Between the rental market and sales and investment market, things are going very well," he said. "We're pretty long into an economic recovery and have a low-interest-rate environment. Couple that with the tremendous demands across the board and what we're seeing from rent growth. … The market is strong."
More than 820 multi-unit communities were identified in the 2018 report, totaling 152,700 apartments. That includes properties new to the market and still under construction, as well as subsidized housing.
Generally, Tikijian Associates collected extensive data only on the 729 properties with more than 20 units, and did not include non-"leased-up" buildings—properties less than a year old—in its report.
Downtown
Downtown continues to be a burgeoning corridor for apartment growth, the report shows. More than 600 units were completed this year, with 1,250 expected in 2019. With that growth, however, has come a small—but expected—decline in the occupancy rate.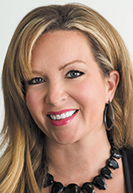 Ott
Since 2013, when the occupancy rate was near an all-time high of 96.6 percent, it has fallen to 93.5 percent. Tikijian called that a natural change in the landscape and one he expects will correct itself as demand continues to rise for living spaces focused on walkability and quick, easy commutes.
One of the most recent additions to downtown's apartment base is the 27-story 360 Market Tower, which began seeing tenants move in around early March. That $120 million project a block north of Cummins Inc.'s distribution headquarters has 292 apartments, more than half of which were pre-leased.
Built by locally based Flaherty & Collins Properties, the tower is anchored by a Whole Foods grocery store.
Flaherty & Collins' vice president of development, Jim Crossin, said the project is on track to meet its goal of being at a stabilized leasing level—about 93 percent—by mid-2019. He said the building has leased about 79 percent of its units, with 70 percent occupied and new tenants moving in nearly every week.
"We are not yet fully leased up, but we're moving ahead of schedule on that process," he said. "It's a unique project in the market … so, I think it isn't having to compete as much as the other new projects that aren't as unique as 360."
Crossin pointed to the grocery store, the high-rise factor and floor-to-ceiling glass as traits that set the tower apart. Flaherty & Collins owns several other apartment buildings downtown, including Axis, at Senate Avenue and Vermont Street, and Millikan on Mass, at Massachusetts Avenue and Michigan Street.
He said his company is confident the market won't have any difficulty absorbing 360 Market Tower and, like Tikijian, is confident the multifamily housing market will remain strong.
Bullish
About 14 projects with a total of 1,925 apartments are expected to start construction downtown in 2019. Work started this year on projects that will bring 3,150 units to market.
Also in development downtown is the second phase of CityWay by locally based Buckingham Cos. That project will add more than 400 apartments across several buildings bordered by Delaware and South streets and Virginia Avenue, including a seven-story tower being built atop an existing CityWay parking garage. CityWay II is expected to be completed late next year.
Ryan Gallmeyer, vice president of production operations for Buckingham, said spaces that offer a unique atmosphere and experience continue to be in demand.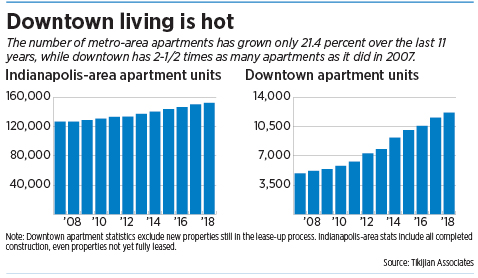 "We continue to feel bullish," he said. "It's all about location and what we're creating for [renters] in the downtown area."
Downtown living generally carries a premium price tag. The average rent for a one-bedroom apartment in the heart of the city is $1,049, nearly $300 higher than the metropolitan average. The average downtown two-bedroom apartment rents for $1,546, and a studio downtown costs an average of $855.
The $1,500 spent on a downtown two-bed, two-bath apartment will get an average renter in northern suburbs—the next-most-expensive submarket—a four-bedroom apartment with nearly $200 to spare, according to the Tikijian report. But that's still almost $300 more than the same setup on the east side.
"There certainly is a demand for places in the downtown and north-side areas, and that drives prices," said Hannah Ott, co-senior managing director at Tikijian Associates. "It's a really explosive market right now."
She said Carmel and Fishers are the suburbs that continue to see the most new apartments. Noblesville has also seen some on-and-off growth in recent years, though not to the same extent. So far this year, about 700 units have been built on the north side, mostly in Carmel.
Broad Ripple continues to be a hotbed of apartment growth inside Marion County. The area recently saw the sale of The Coil along College Avenue and has two other projects in development. A third is being considered by the Broad Ripple Village Association, though several steps remain before it can move forward.
A seller's market
Property investors—both nationally and locally—are increasingly looking for unique opportunities in multifamily housing, Tikijian said.
With that comes an influx of capital into existing projects that might be older and suffering declining or stagnant revenue. In 2018, Tikijian has sold more than 20 properties (totaling 6,920 units), marking one of the best-performing years in its history. The year saw Tikijian sell 51 percent of all apartment complex sales in Indianapolis.
Ott said there has been considerable growth in the effort to refurbish old places, mostly because of the success others have had since the economic turnaround began.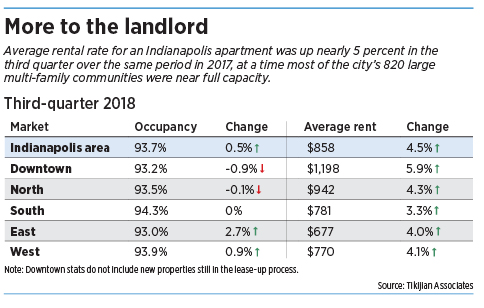 She said owning multifamily housing today has a "different mentality in the investment market than it did 10-15 years ago." She said more investors are willing to work on multiple projects that result in a smaller return.
Many large properties are also owned by out-of-town investors who can get better deals in Indianapolis than in cities like Chicago or New York, she said. Indianapolis' average 186 units per complex is also fairly high, resulting in more investment and a better return on investment.
Many properties that sold in the past three to five years had also been sold only a few years before. At least 60 properties have sold more than once in the last 10 years, Ott said. Seven have sold three times. Some of those have been the result of poor management or a need to exit the market, while others were sold after renovations and upgrades, she noted.
Even so, the amount of return on investment is nearly the same for high-end properties as for refurbished ones, she said.
The market's largest 2018 apartment sale was in late October, when a portfolio of five properties—including the area's largest apartment complex—sold for $121 million. The Westlake Apartments, east of Interstate 465 near Rockville Road, sold for $70 million as part of that deal. The new owners, an out-of-state joint venture, have pledged at least $29 million in renovations.
The sale was the largest for an apartment complex since the $90.6 million Lake Castleton Apartments acquisition in July 2017.
Tikijian said it's a good time to be in the multifamily brokerage market, but noted it's unclear how long the trend will last. "We don't know if this cycle is going to last 60 days, six months, six years or, heck, 60 years," he said. "But at some point, something will change and the market will cycle back around."•